Stronger Athletes
---
AFCA Convention Report
January 9 "Character is like a tree and reputation like its shadow. The shadow is what we think of it; the tree is the real thing." -Abraham Lincoln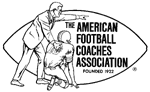 If you have been checking in and noticing that we have not updated the website in a few days it was because we were in New Orleans for the 2003 American Football Coaches Association National Convention.
While aimed at recognizing the college football coaches the AFCA has made an attempt to include high school coaches more and more. I would encourage all coaches who desire to contribute to their profession, outside of their own environments to get involved with their professional organizations. I think we all need to realize that as coaches we play an important role in developing the total athlete, not just his strength or abilities.
I enjoyed getting to meet some of the coaches who read our website as well as hear many of the outstanding speakers a the event. 2004 is in Orlando, hope to see you there.
How To Individualize a Workout
We believe it is crucial that athletes be consistent in their training. Along this line of thinking many coaches require their athletes train 4 days per week never taking into account the athletes' individual needs.
This goes back to individualizing each athletes' program. Do not treat all athletes the same. Many of them recover at different rates especially as they get more experienced in training. Some of your athletes may have more going on in their life than others. Some may not get good sleep for a period of time because of studies or some other aspect of their life causing them to not get sufficient rest. All these things need to be taken into consideration when making adjustments in an athletes training. This is very necessary if you want your athlete to get the most gains from the program.
Many coaches dismiss this indicating that it is not reasonable to individualize each athletes workout because it is too time consuming. This is not the case. Sure, it will require the coach to work harder but our athletes want this effort by us to ensure that they are getting the help they need to be successful. They trust us, and we owe that effort to them.
Start each beginning level athlete on the same program and as they get more experienced, make adjustments. These adjustments are made easily by brief discussions with the athlete and usually by assessing their workout progression chart. Each athlete needs to be told that their workout may be a little different from everybody else's. If an athlete is not recovered by the next training day then why make him/her train?
The adjustments that are usually made are the frequency of their training days or exercises. At times, adjustments might have to be made so it is best not to ask athletes to train on any given schedule like M-W-F. Do what is right, train them individually so they can get the most gains.
If you have questions or comments about this web site or strength development or training please Contact Stronger Athletes.